CAGP-CCSMH Annual Scientific Meeting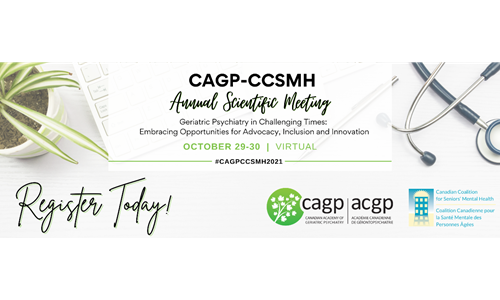 After the success of our first virtual meeting in 2020, we are looking forward to offering another engaging virtual experience where our delegates can join us from the comfort of their homes or offices to learn, share and network with their colleagues from across the country! The committee has been busy discussing interesting formats to present content, connect in fun ways and learn together.

The 2021 CAGP-CCSMH Annual Scientific Meeting (ASM) will focus on the theme "Geriatric Psychiatry in Challenging Times: Embracing Opportunities for Advocacy, Inclusion and Innovation."

This year's meeting will be held over the dates of October 29 and 30 and we aim to deliver the same quality education you expect, along with fun social and networking opportunities to keep everyone connected from coast to coast. We hope you will join us as we once again deliver our ASM on a virtual platform! Elements of our meeting will include posters, wellness breaks, round tables for networking, engaging live sessions and access to all content and recordings.

Mark your calendars, break out your popcorn makers, and grab your favourite beverage! CAGP and CCSMH are kicking off this year's meeting by bringing the big screen to you for a special social event on the evening of October 28th – click here for more details!
 
Sincerely,
The 2021 ASM Planning Committee
ASM Learning Objectives

At the end of this conference, participants will be able to:
describe and integrate promising practices in mental health care for older adult populations;
identify basic and applied research on the contributors to wellbeing and mental illness in older adult populations; and
apply interdisciplinary strategies that promote the mental health of older adult populations.
To view a draft program, please click here.

ASM Speaker Highlights
Click here for more information on our keynote and plenary speakers.

Virtual Fundraiser: CAGP-CCSMH Get Active Week!
This year, the CAGP and CCSMH want to take our annual fun run and kick it up a notch with a week-long event to get active! 
We want participants to unite across the country and join us from October 16 to October 24 in getting active by participating in an activity of your choice in support of the CAGP. You can run, walk, bike, do yoga, or any other activity that gets you moving indoors and/or outdoors! Share your progress by using #CAGPCCSMH2021 on Twitter, Instagram, and Facebook.

Get Active Week: Saturday October 16th, 2021 to Sunday, October 24th, 2021
Entry Fee: $35

All of our fundraising initiatives will support the CAGP. Funds can be directed to support the CCSMH, CAGP resident and trainee awards and initiatives, education or advocacy efforts.
Register now by clicking here!

Why Should I Become a Member of the CAGP?
By joining CAGP, you are supporting the growth of Geriatric Psychiatry as a subspecialty in Canada. In order to receive the discounted member rate for the 2021 ASM you must be an active member of the CAGP.
Benefits of becoming a member 

Click here to become a member

Become a CCSMH Affiliate!
Established in 2002, the Canadian Coalition for Seniors' Mental Health (CCSMH) is a project of the CAGP and is mandated to advocate for and promote seniors' mental health and to connect people, ideas, and resources in the interest of research on seniors' mental health.
Becoming a CCSMH affiliate is free! Affiliates are updated on CCSMH (and their key partners') initiatives in the field of seniors' mental health through emails and e-newsletters. Become an Affiliate today